The Vintage Radio Repair Shop
For all your repair, restoration and servicing needs for Vintage Valve Radio
Telephone 0161 285 1600 Email: info@vintage-radio-repair-shop.co.uk
Based in Stockport, Cheshire N.West England but offering Nationwide Service!
Formerly Dab Hand Radio.. Same people, new name! We DO NOT repair DAB Radios!


WELCOME!! If you are seeing this your password worked and you have reached the
Apprentice Zone!
Thank you for your Joining Fee which is to provide some support for the materials I will be sharing with you in the future. I will now have your email and 'land' address which is solely so I can contact you directly and, if required, send you items which you might seek or need when repairing a radio. Rest assured I will NEVER divulge your email or address to anyone else. What's said/done in The Apprentice Zone stays in the Apprentice Zone!
**************************************************************************************************************************************
The Vintage Radio Repair Shop Apprentice DISCLAIMER
For insurance reasons I have to put in here a Disclaimer concerning the nature of our activities which will include working with electrical circuits which have high voltages which can be lethal…. Of course SAFETY is my paramount concern but I do need you to accept that working on old valve/tube radios can be dangerous and I need you to cut and paste this paragraph and return it to me by email as an acknowledgement of the risks involved.
Please digitally sign it and return to me, Name Date
***************************************************************************************************************************************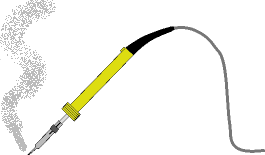 This Apprentice Zone will soon be populated by information/hints/tips/ but mainly responses to queries and requests made by you, the Apprentice! I hope that this will be the foundation of a long and useful relationship where we can share expertise and learn together. I'm especially looking forward to the discourse I will be having with those of you from The States and the Far East where the radios can be very different to that which can be found in the UK!
More to follow! Keep checking in!

Corona Virus! Friday June 5th 2020
Thanks for your understanding!
The Corona Virus is finally passing its Peak here in the UK. We have been supporting our daughter and son as best we can given that they are trying to juggle three under 4 yr old youngsters (daughter 2, son 1) and try and work… Both are self employed so you know the score in terms of help via government etc.. Don't get me started on the way in which here in the UK the pandemic has been dealt with. Suffice to say I'm looking forward to using my vote to get the present bunch of buffoons out of office in due course.
What an awful experience it has been and continues to be and, touch wood, I haven't been infected. I am working on a couple of videos which with a fair wind and a bit of luck should be on here soon but in the mean time I will be sending each of you (at long last!) the first in a series of Lesson Plans/Information Packs electronically so you can get started. (I may call them something else but its the 'old teacher' in me!) These will arrive in the next few days.
I'll also be pointing you to some of the best You Tube videos to look at. There are a great many on You Tube concerned with restoring and repairing vintage radios and some of them are fantastic but the majority are unsafe and pretty bad! Beware!
I'm planning to have the first … Best wishes all!!
Dave
I don't get much done with this rascal under my feet!
Meanwhile below are some of my You Tube efforts to take a look at… I'll improve!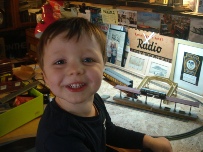 https://www.youtube.com/watch?v=Uw6WOd2cAzQ

https://www.youtube.com/watch?v=_40F5RaR-FE

https://www.youtube.com/watch?v=wjlVowLUtrM

https://www.youtube.com/watch?v=HgOHHC_rt_M







INTRODUCTION! Hello!
No.1


The Apprentice Files…
Below you will find a series of videos designed to help you start out on your challenge to repair vintage radios!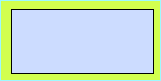 Here's a problem… Have a think and let me and the rest of the group put forward a few ideas on how this one could be fixed? What's the problem? What can you see in the photos that might be a cause for concern??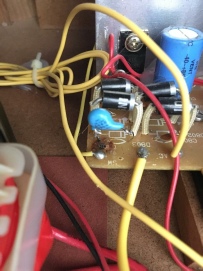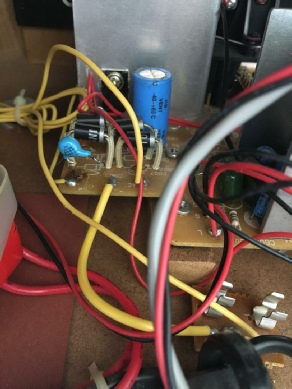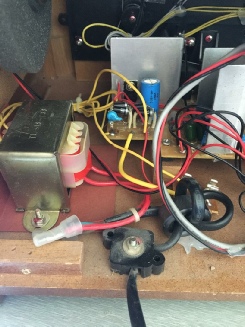 Someone has asked me to take a look at a Steepletone radio/CD player that they have that holds great sentimental value for them. It was being used and then "just stopped working". I've discovered a slow blow 2A fuse inside. This had failed and there is evidence of heating on the corner of the circuit board that is fed by the current after the fuse. I replaced the fuse and, unsurprisingly, it blew too. Would you have any idea what is causing the problem and is it an easy fix?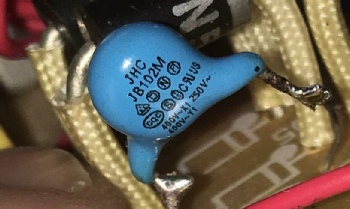 This capacitor has obviously been changed in the past.. Its a 0.001uf high voltage type (the 102 on the side points to its value)

Done some more checks and discovered that one of the diodes that firm the rectifier has had it! Other three show forward voltage of 0.55V and it shows basically nothing.
This is the capacitor:
As you said, mains-rated; it is across one of the diodes. The other capacitor is 20 nF and it's across the diode that has failed.
My comments will be in these blue coloured boxes.. Yours in the green!